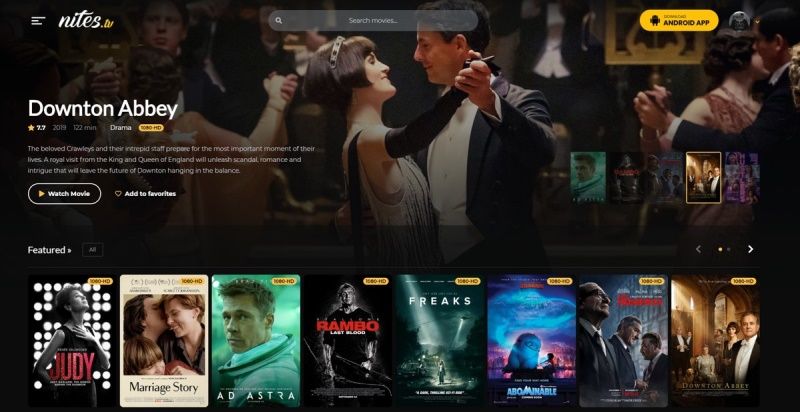 Nites.tv is going viral on the internet at the moment, it is even getting mentions in the UK press, here is an article in the Sun newspaper . What is is it? Nites.tv is a free site to watch movies and TV shows like HD Cinema, Cat & mouse etc, however there is a big difference, this one is totally free to everyone, no ads, no sign up and no app needed, just go to http://nites.tv and start watching on any device. Whats more, this one performs similar to a professional VOD service like Netflix, with instant stream start, no buffering, high quality, low bandwidth etc, it's this last bit that got our attention, why? because this kind of performance costs lots of money and requires some serious hardware, that's why the average pirate IPTV collections are so rubbish compared to the professionals like Netflix and Hulu.
Its not even totally clear if its legal, I doubt very much it is as there is no information about who operates it or its licences to broadcast the copyrighted content it offers and I cant see the likes of Netflix and Hulu letting their stuff go for free.
All we know at this stage is that its out there, its free and it works way to well for something of this nature. The service has been operating for 8 months and so far has not felt the long arm of the Pirate Police, again we are not sure why. I will leave that to the conspiracy theorists out there.
Should you use it? Of course if its illegal you should not, and we are pretty sure it is not, if you decide to check it out then we would advise caution as nothing is free, there has to be a reason this has appeared, could it be an attempt to do the Pirates out of business or is it just a new service that is a work in progress and the sting in the tail has not been added yet or could it just be somebody with buckets of money who wants to help people survive the lockdown and will eventually disappear as quickly as it appeared we just don't know.
NB: as suspected as of the 22nd April this service was taken down