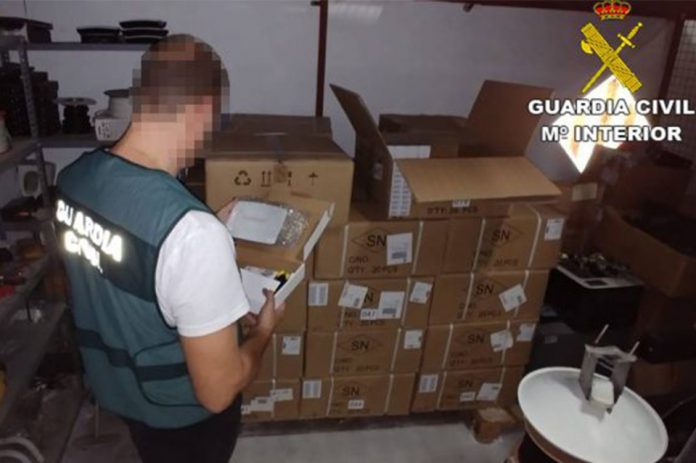 Original article posted in the Weekender Newspaper
A BRITISH-RUN pirate TV operation has been scuppered by the Guardia Civil, who have arrested three British men in the Formentera del Segura area.
Their ruse was rumbled after a Finca owner in Formentera noticed that a large aerial mast had appeared on part of his property, which had been anchored down with concrete, and was impossible to remove without specialist equipment.
The owner complained to the Guardia in Almoradi, who then simply followed the route of the cable from the mast into what appeared to be a disused warehouse.
The officers then discovered a large amount of equipment used to run an illegal television distribution network.
A Guardia statement did not mention the name of the company, but said that three men aged 30, 46, and 63 were arrested and released on bail after being hit with a variety of charges, including crimes against public finance and social security; money laundering; illegal property use; and belonging to a criminal gang.
The Guardia said that the gang had been in business for less than a year and had around 500 non-Spanish subscribers to their illegal TV system across the Vega Baja region, which distributed premium channels at a cost of 25 euros a month to viewers.
Large quantities of receivers, decoders, and satellite dishes destined for subscribers were seized from the warehouse, as well as from an address in the Rojales area, with the equipment said to be worth around 40 thousand euros.
The gang leader lives in the United Kingdom for most of the year, but a return to the area saw Guardia officers from Almoradi arrest him, along with his two colleagues, namely a home installation engineer, and a computer expert.
Estimates suggest that the "pirated" broadcasters lost up to 15 thousand euros a month, whilst the illegal company pocked as much as 450 thousand euros during the time it "traded", with nothing being declared in tax, as the money was "laundered" in amounts below three thousand euros so as not to attract the attention of the authorities.